Adabei123
Aspirant
Mark as New

Bookmark

Subscribe

Email to a Friend
Hey,
I was trying to install two Arlo Go IFTTT Applet, but it seems the Arlo IFTTT Service and Arm/Disarm action doesn´t find the Arlo Go cams. The service finds both cams only under start recording. It seems there is something wrong with the Arlo service for the Arlo Go cams. Enclose you will find a few screenshots.
thx & greets
thx&greets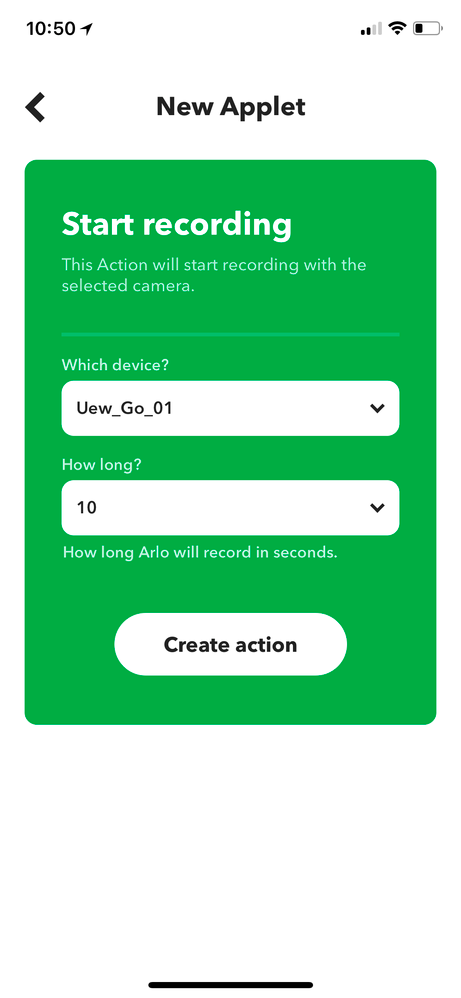 JamesC
Community Manager
Mark as New

Bookmark

Subscribe

Email to a Friend
Adabei123,
Not every applet is available for every device, what are you trying to accomplish through IFTTT?
JamesC
Adabei123
Aspirant
Mark as New

Bookmark

Subscribe

Email to a Friend
It is nothing available for the Arlo Go, besides of "Start recording".
I trying two things - to Arm/Disarm with a Button and to Arm/Disarm within a location. I think both routines should be a standard for each cam. Sadly also Stringify doesn´t work for the Arlo Go cams.
With the button, it's also available in the Arlo app, but I have to do it with both cams separately.
The second one, the location, only works for the main User and not for Friends.