chito2800
Aspirant
Mark as New

Bookmark

Subscribe

Email to a Friend
So I own 4 arlo pro and they work amazing. Night vision is wonderful. I want to buy a extra camera for seeing the street where the cars park but I'm thinking if I should go with arlo pro 2.. the arlo pros I have now can see pretty far distance in night vision but I want to get the arlo pro 2 just cause it's newer but I hear all these bad reviews about night. Vision being bad but the pics I see of those customers complaining have the cameras position wrong where the ir is bouncing of the wall or a object too close to the camera. Can anybody help me out with some pics showing arlo pro 2 night vision of some far away distance views and normal views too.?Or any advice about the night vision. I also hear the arlo 2 pro looss connection a lot or video is really not that good when watching on biggger screen.
Model: VMC4030P| Arlo Pro 2 Wire-Free Cameraarlo.netgear.com | Web Site/App
1 ACCEPTED SOLUTION

TomMac
Guru
Mark as New

Bookmark

Subscribe

Email to a Friend
First, the Pro2 is 1080 over the 720 of the Pro.... and yes it is newer and going thru it's birthing processes ( minor glitches ).
I am running 2 Pro2 cams and several Pro cams.... IMO , you are not going to get any more range from the P2 over the P1. Also, most of the better features require the P2 to be ac powered. If there is a cost difference, it may be better to stick with what you have if running only on batteries ( it really depends on your usage )
Here is a PRO cam vs PRO2 ( no outside lighting, side by side , same conditions taken a few sec apart )... the PRO2 is a touch grainier but gives 1080 view over the Pro 720 , with the PRO2 wider IR.. The PRO2 tho does exceed the PRO in daytime lighting by quite a bit... so it's a trade off. IF external lighting is present, the Pro2 starts to improve. Have heard hints the night vision will get improvement as time goes by.
PRO;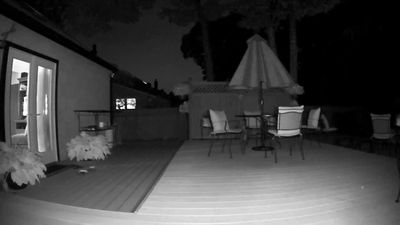 PRO2;
@brh As to notices and or pushes on any camera... it is a per camera option to turn them off or on so no issue with notifications if not wanted all the time... your choice , you just have to edit the mode. ( or make two modes one
with alerts and one without , then use the one wanted at the time )
Yes , A q cam is streming all the time... it can peak at 1.5Mbs but mostly falls around <1Mbs ( you can lower rate also vs rez setting ) ... once again , you can turn off alerts but the Q cams do work great thru glass as they are pixel based detection .
--------------------------------------
Morse is faster than texting!
--------------------------------------